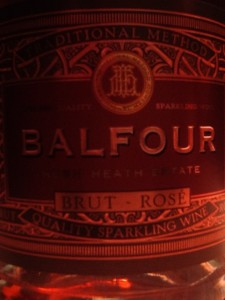 The exciting thing about vintage wines, such as the Balfour, are the way they evolve and reveal and reflect the vintage year. The 2009 Balfour Brut is now in wider circulation after a brief Silver Medal showing at last years Olympics.
The 2009 harvest itself took place over 2 days , on the 11th and 12th of October at Hush Heath. Unusually the Chardonnay was earlier than the Pinots with higher sugar (81 oc ) and lower acid (10.6g/l) . The Pinot Noir and Meunier came in at 77 oc and 11.6 g/l , pretty well perfect in other words.
The winemaking followed the usual course, cool separate ferments with a short 6 day separate red ferment for the Pinot Meunier . The final blend worked out at 52% Pinot Noir, 37% Chardonnay and 11% Pinot Mernier, a somewhat higher proportion than usual and a rather deeper pink .
The wine was bottled in July 2010.
From its comparativly youthful beginnings 2009 Balfour Brut is now a wine showing itself in its finest condition. The wine has now been on its lees for over 2 1/2 years . The wine was selected for the Olympics and the ffirst batch was disgorged in March 2012. Since then it has been disgorged on demand at the Hush Heath Winery, giving 3 months on the cork before sale.
A deeper pink than previous vintages, reflecting the higher proprotion of Mernier. The bead is fine and sustained both in the glass and mouth. The nose is slightly creamy,hints of white pepper, dried herbs. The palate is gloriously complex and full, malted shortbread,orange citrus, cooked strawberry and white chocolate . It finishes freshly and long, raspberries and cream.
Decanter – Silver medal winner