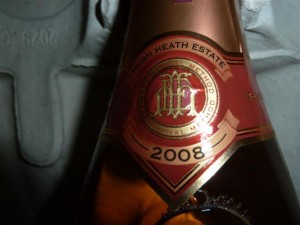 Most of you (anyone I know)will have missed the Balfour 2007 which almost exclusively went to British Airways (First Class) over the summer, as far as I know never reviewed but very well recieved by the mile high club. Step forward the Balfour 2008. Like the 07, a high malic year and not a massive vitage. A relatively late harvest, The Pinot Noir and Meurnier were picked on the 20/10/08  at 72Oc- 13g/l acid and 66Oc -12g/l  respectively. The chardonnay was picked on the 27th October at 68 and 14g/l . Very much pinot dominated, the blend breakdown is 53% PN, 38% CHA and 9% PM.
Made by Owen Elias of(ex) Chapel Down fame, the Balfour is always a vintage wine and always made without malolatic fermentation giving a fresh youthful characteristic to the early releases. The 07 an 08 vintages have and are being disgorged at the new state of the art winery at Hush Heath. They are corked with a mytig cork(an expensive technical cork) which are guaranteed taint free and allow longer post disgorging time on the cork(now 3-6months before release). This is now giving a more complex, interesting and harmonious wine.
The 2008 is an old fashioned pale salmon pink, the mousse is the most sustained of any sparkling wine that I have known, both in the glass and mouth, a very fine and sustained bead,  creamy and not at all aggressive on the tongue . The acidity is high but is balanced by a well integrated dosage of 12g/l.
The nose is clean and Pinot dominated, slightly peppery with hints of all-spice. The palate shows crisp but balanced acidity, herby with masculine hints of red fruit and plum and an attractive citrus finish.
Usually recommended as an an aperitif, this wine is actually a fantastic food wine and can handle and compliment the most robust meals likely to be served up in Champagne, steak, game, sausages and kidneys.