For the most part winemakers tend to avoid going outside in winter. January is usually too wet,early or cold to get involved in pruning, luckily there are plenty of other things that need to be done.
Having said that Dr Richard Smart and Professor Laura Mugni were poking around a few vineyards assessing the potential fungal problems in English vines. A number of vines were sacrificed for the greater good, and the nature and identification of the evidence and its implications were debated and disputed. Apparently fungal free vines are to be found in Eygpt.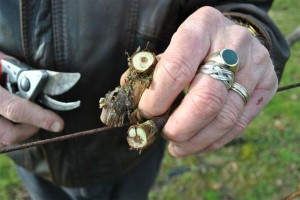 In the winery it is refining and tweaking the 2011 blends , moving them towards stability and bottling. The 2011 still wines are of a pretty high quality, at Nutbourne we have a very classy Bacchus and Sussex Reserve which should go into bottle over the next couple of months. At Hush Heath the blends have been restricted to Balfour and Nanettes Rose.
Also exercising the mind and tastebuds has been the dosage trials of the Balfour 09, think we are nearly there….
Peter Hayes , the Wineskills vineyard mentor visited the Hush Heath Vineyards and gave interesting advice, some of it quite illuminating and pertinent. If he hasn't been to your vineyard you should have him round. While he was here he was co-opted into a tasting trial of the Balfour 09 vintage. (taste it at the Olymics)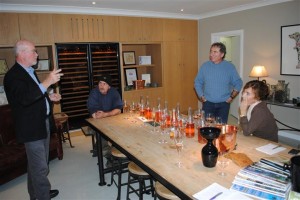 Gusborne and Hush Heath hosted a visit from some Austrian growers, they were certainly impressed by the level of investment in the vineyards and winery as well as the high price point for English Wines. The vineyards were all family owned , small and had their own wineries. I was told that there were 60,000 vineyards in Austria and 40,000 wineries. Passing the vineyards and skills to the next generation was regarded as being fantastically important. Tasted some good and interesting wines, chardonnay, St laurent,Pinot Noir and some local varities(need to find my notes) . Natural sugar levels were high 12-13%.  Prices where from 5-10 euros for well made and distinctive wines.