Empty tanks are a great sight for the winemaker, the harvest safely in bottle, the annual cycle at an end. A short time for refelection and review before it all starts again in 3 months time. last week the Nutty 2010 was bottled together with a new sparkling rosé made from 100% Pinot Noir and bottled in clear magnums.
On the competition front the 2010 wines Bacchus, Sussex Reserve and Blush were all Silver medal winners at The UKVA wine of the year, more importantly they all taste delicious.The Nutty 2007 (silver) is also drinking very well.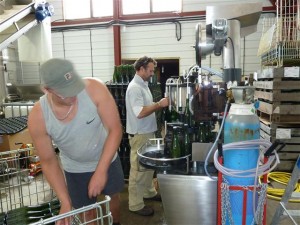 The new plantings of Pinot Blanc and Bacchus have grown well this year ,so well in fact that the trellis work is being erected in the next couple of weeks.