Grape Varieties
ACOLON
Vitis vinifera- Blaufankish(lemberger)X Dornfelder
A recent German crossing(1971)  authorised in 2002. There are a couple of East Anglian plantings of this new red grape. Thought be some to have potential in England , I am not so sure. Sugars are reasonable as is the colour. Not great in sparkling rose. Appears to be having some success in Belgium. I rest my case.
ALBARINO
Usually associated with Galicia in the north of Spain. Its thick skin apparently gives it some protection against the damp conditions.
ARBANE
Vitis vinifera
An obscure champagne variety,originating in the Aube region. Not grown in England as far as I know and probably  a grape that would be attractive only to  the most masochistic and optomistic grower .
Budburst is early, the vine is vigourous with a fantastically  long vegative cycle. Harvest dates are very late , yields are very limited.
It is suseptible to disease, in particular Mildew. The question you might ask is, why it was ever grown? The answer is its ability to hold its high acidity level even in full ripeness,giving you a nice blending option.
Could not resist , so have persauded Richard Balfour-Lynn to plant 120 vines at Hush Heath.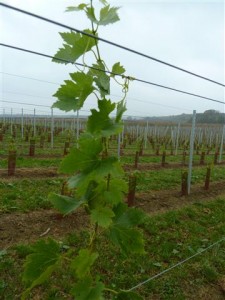 AUXERROIS
Vitis vinifera
Makes reasonable if not very exciting sparkling base wines. Ripens a little earlier than Chardonnay and if I was thinking of planting north of Chelmsford this variety would merit some consideration.
Grown in Sweden(kopingsberg)
BACCHUS
Vitis vinifera- (Silvaner x Riesling) X Muller- Thurgau
High quality aromatic white grape ,widely grown in England . A German crossing for the early 70s (Silvaner X Riesling)X Muller-Thurgau. Always being described as England's Sauvigion Blanc in journalistic shorthand ,it is a key grape in the English Wine industry.
In the vineyard Bacchus is perhaps not the easiest of grapes to grow. It is suseptible to Powdery and Downey Mildew and Botrytis.It has been known to rot Nobly in the right conditions.It is occasionally prone to Coulure (poor flowering), yields of 5t/a are rare but not unhead of.   It ripens early to mid season for most winemaking styles ,retaining its acidity even in the hottest of years.
Currently being planted on a large scale, mainly led by Chapel Down. New plantings at Nutbourne in 2011 and Kingscote in 2012 and 2013
Harvest- 7-15th October
Acid- 8.5-11g/l
Sugar – 65-80oc
CHARDONNAY
After Pinot Noir now the most planted variety planted in England, ripening a week to ten days after Pinot Noir site selection is of crucial importance. Bud-burst is before Pinot Noir and as a result is more prone to both spring and autumn frosts though strangely seems to set better in poor conditions. Again there are a wide selection of Champagne and Burgundy Clones avaiable, as with Pinot Noir there is some debate as to its suitability for still wine production in the UK, I can promise you that it is.
Shares the dubious distiction with Rondo as having the earliest budburst in the UK . In 2012 in Kent this was the 2nd of April, in 2011 the 10th. Harvest dates are 7 to 10 days after Pinot Noir. 5th of November at a frost free site in Sussex in 2010.
DORNFELDER
Vitis Vinifera – Hefensteiner X Heroldrebe
Another Red crossing from Germany enjoying some popularity in England. Some growers have struggled with its erractic yields , it can overcrop dramatically and stuggles in these years to reach a decent sugar level.Colour tends to be on the light side.
The wine is probably best used in a blend adding some much need finesse to varieties such as Rondo.
Harvest – late October
FABERREBE
GUTENBORNER
Vitis Vinifera - Muller- Thurgau X Chasselas Napoleon
Another obscure Geisenhiem crossing fromthe 1930s. Planted at Carr-Taylor (Westfield) and at Tenterden in the late 70s and still grown at the latter, it survived because it actually made very nice wine, usually as part of a blend. Less disease prone than M-T , higher sugars and a distictive spicy taste. Never really caught on and I am not aware of any recent plantings.
HUXELREBE
Vitis Vinifera-  Chasslas x Courtillier Musque
MERLOT
Vitis Vinifera
The surprise is that this is grown in England at all, the other surprise is that the grapes can actually be used for winemaking. You can forget about red wine but it does make a surprisingly good base wine for sparkling (white).
Harvest- late October  in a good year
Acid 13-15+
Sugar  60 oc (if you're lucky)
MULLER-THURGAU
Vitis Vinifera- Riesling X Silvaner?
Some question mark over the parentage of this vine. Bred by Dr Muller of Geisenheim and Wadenswil in Switzerland in 1882.
I am struggling to think of a vineyard where M-T is still grown on any scale and it properly belongs to a different era . At one time the 'benchmark vine' in the UK by which others were judged, this only hastened its decline, poor yields( due to suspect flowering) and susecptibility to the whole range of fungal diseases encouraged by the English climate curtailed its popularity.
When it could be prevailed to bring forth a decent and clean grape the wines could be of good quality  across a range of styles, slightly flowery,spicy at its best more often than not flabby and dull.
In 1987 in 146 ha represented appoximately 27% of the Uk plantings by 1999 this had gone down to 13% ,though apparently still the most planted by area
ORTEGA
Vitis Vinifera – Muller-Thurgau X Siegerrebe
First registered in 1971
A grape that reallly should be more common in England. It ripens early and is capable of high sugar levels while at the same time maintaining good acidty. Its thin skins can allowit to be suseptible to rot , it will rot nobley in the right conditions. Early budburst? may make it sensitive to frost, which begs the Denbies question.
Versatile as regards wine styles, dry , dessert and oak styles are all possible .
Biddenden are the most successful exponents and growers. Mersea had some excellent fruit.
PETIT  MESLIER
Originating in northern France ,this is one of the 6 varietals allowed in Champagne but you will struggle to find it . In 2006 there appeared to be less than 1 ha in the whole of France . It has not been planted in the UK to my knowledge.In 2003 around 10 clones were in the champagne collections.
Budburst appears to be early and it is suseptible to spring frosts.
Harvest is late , possibly after Chardonnay.
In addition to its precocity, it is also prone to millerandage and coulure so it needs a really good,exposed site with long canes and lots of buds ? It is also very sensitive to Botrytis.
The bunches and grapes are small , with low yields. It makes a lively, aromatic base for sparkling wine . I have tasted it as part of a blend and can vouch that it is interesting .
I believe that some has been planted in England. Hope to add it to the Hush Heath assemblage in 2012.
PINOT BLANC
Pinot Blanc is a white mutation of Pinot Noir. Not as fashionable as Pinot Noir and Chardonnay in English eyes,Pinot Blanc deserves better and is an ideal grape for England . For many years it was the white part of Chapel Down Pinot Reserve, strangely Chardonnay did not appear there until 2006.
I planted it extensivley while at Chapel Down. Roundbush in Essex, Tenterden, Lamberhurst,Sandhurst and Budds(Rolvenden).
Stopham Vineyard make an excellent still Pinot Blanc as do Chapel Down (usually).
PINOT GRIS
Becoming increasingly fashionable to plant in England as well as strangely in the rest of the world . Lovely examples from Alsace and Northern Italy ,bland ,boring and disappointing from nearly everywhere else . In England sugars between 75-90 oc (10-12.4%) are not unknown , the acidity seems to remain resolutley high ,between 12-13 g/l at harvest . Good examples are to be found, most notably by Simon Woodhead at Stopham in Sussex.
PINOT NOIR
A cool climate grape from Burgundy and Champagne . Now the most planted variety in England , but beware it comes in many guises, there are over 400 clones of Pinot Noir . They vary hugely in yield and character, clonal selection and rootstock are vital. Champagne clones are capable of yields upto 6 tons/acre, Burgundy clones with smaller bunches and generally higher sugars can crop around 3 tons/acre.
The earliest of the classic varietals to flower in England. In 2012 the first flowers seen at Hush Heath were on the 28/6/12
Coulure can be a problem in cool wet years (2012) with a severe impact on yeilds.
PINOT NOIR PRECOCE (early pinot noir)
There used to be rather more of this variety planted than vineyard owners let on , after all who wants to label their wine Fruhburgunder. This is an early ripening clone that is almost certainly related to Pinot Noir. It yeilds moderately well with high must weights and low acids, often harvested 2-3 weeks before traditional Pinot Noir, interestingly final bottled analysis of red wines made from this grape are almost identical to wine made from Pinot Noir. Apparently also grown in champagne(presumably labelled Pinot Noir) and allegedly used for starting early malo-lactic cultures.
PINOT MEUNIER
Vitis vinifera
The last of the Holy Trinity of the champage grapes, woefully under represented in current UK plantings. Mentioned with seeming embarrassment in Champagne,(unless your name is Krug) it actually  occupies 40% of the planted area and is the work horse and occasional star of the industry . Less fussy as to site it is more frost resistant than either Pinot Noir or Chardonnay. Yields tend to be slightly lower than Pinot Noir, it usually ripens a few days later but is rather more reliable?
PHOENIX 
vinifera(complex hybrid) Bacchus X Seyve Villard 12-375
Greeted with some excitement a few years ago this variety has proved to reflect its parentage producing a dull sub bacchus like wine.
Sugars can be low and acid high, strange oversized grapes.
Plant Bacchus.
REGENT
A relatively new red  German Hybrid. The quality of the wine is surprising considering its mixed parentage . (Silvaner X Muller Thurgau) X Chambourcin since you ask . Can make a more refined wine than Rondo, it will take oak and in winemaking terms is relatively straight forward with reasonable colour and managable acidity. It sometimes shows some reluctance to being destemmed .
In the vineyard, again Regent presents no major problems . Fruit set isn't always what it could be as can be seen on the photo . It is supposed to have some fungal resistance , it appears to be more resitant than Rondo to botrytis and has been harvested 2-3 weeks after Rondo .
2012 was another difficult year across most varieties, the below photo shows Regent at the end of August 2012, note the almost autumn colouring on the leaves and millerandage.
REICHENSTEINER
vitis vinifera – Muller-Thurgau X (Madeleine Angevine x Calabreser-Froelich)
Once very popular in the UK. Reliable and high yeilding variety, with high sugars and reasonable acid levels. Somewhat neutral in flavour it works well as a sparkling base, particulaly as part of a blend. Plantings are dwindling but interest is being  revivied as growers and wineries assess the harvests of the last few years (2010-12)
RIESLING
Vitis vinifera
At the very edge of English cool climate potential comes Riesling, alot of people talk about planting it. Denbies experimented with it but I think only produced 1 vintage (95? a hot and frost(small yield) affected year) which was pretty good. Rathfinny have planted a selection of German clones(2012?)
RONDO
Rondo is a red grape that promises everything but invariably disappoints as a red wine .Early ripening (I seem to remember some being harvested as early as the 20th of September – 8th 0f September in 2011) , yields of up to 11tons/acre . High sugars and great colour . Suseptible to spring frost as budburst is early and also to coulure.
The first of the varietals to flower. 2012 – 24/6/12  with 50% by 29/6.
Excellent for rose, requires no maceration (tastes better without it)
SIEGERREBE
Vitis Vinifera- freely pollinated seedling of Madeline Angevine apparenty.
This grape should be more widely planted in England than it is, it has the shortest growing cycle of any varietal (88 days?) and can acheive exceptionally high sugars 90-100 oc . Here in maybe lies the problem. The grapes are usually ready 2 weeks before anything else(even rondo) , harvest preparations will barely have begun in some wineries, last minute bottling to empty tanks, harvest team still flying in etc. This is a shame because it is an excellent and versatile grape. If I was up north this is what I would grow instead of theraw potato flavoured Seyval.Picked early while it still has some acid and has turned full pink it makes a beautiful aromatic wine with a muscaty bacchus like character , left on the vine it can become very attactive to wasps as it turns to a dark browny pink, the acids tend to drop quite quickly at this stage and single varietals can be a bit flabby and blowsey but fantastically useful as a blending option .
Three Choirs have quite alot. I planted an acre at Tenterden and have encouraged a new planting at Kingscote this year (2012).
SCHONBURGER
Vitis vinifera
A grape varity that had some popularity in the 1980s and suffered somewhat in the change of fashion away from the germanic wine styles. Burdened with a cumbersome name and a tendancy to drop acid like T.Leary if  left to hang too long. Having said that it would always hang clean and was capable of high must weights but with a tendancy to flabby sub gwertstramier style. Picked early with decent acid  has a bacchus/rose petal character. Usually ends up in a blend, its pink grapes work very well in aromatic roses.
Chapel Down's English Rose, Nutbourne Blush usually have it as part of the blend.
SEYVAL BLANC
syn. Seyve Villard 5/276  Hybrid
A most hideous and boring grape.
Unfortunately undergoing a mini revival by those seduced by its occasional tendancy to over crop and provide bulk filler for sparkling wines.
The skins will block up your press and the juice will usually taste like an old potato and cabbage in your finished wine. That being said there are fans of the rustic style.
Can be problematic to source .
WROTHAM PINOT
Wrotham Pinot is something of a mystery in the recent (living ) history of English Wine. The vine was found at a cottage in Wrotham by Edward Hyams who took cuttings which were propagated by Barrington Brock at Oxted(Dr S.P.Skelton- The Wines of Britain and Ireland , has a good section on the revival of English grape growing) . It resembled Pinot Meurnier but apparently ripened 2 weeks earlier than French Pinot Meurier and with higher sugars ! It could be that there are examples still being grown somewhere in the UK  but I am not aware of any.
WUZER
Vinifera- Gewusrtraminer X Muller-Thurgau.
Really now only of limited interest and rarely found in the UK. High in acid and late ripening it can be interesting in a blend adding a bacchus like character. Its heavy tight bunches and yield coupled with its late ripening make it prone to Botrytis and other fungal diseases, its viability is dubious to say the least. Plant bacchus.