PUBS NEAR VINEYARDS
THE KINGS HEAD  Staplehurst Kent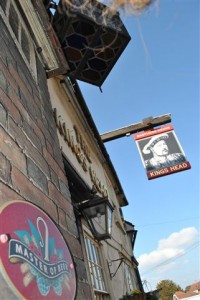 The choice in Staplehurst is pretty limited at the moment. The Kings Head (Shepherd Neame)hangs on. Very much a locals pub, slightly faded and worn. The beer is good, Earlybird, Bishops Finger, Masterbrew. The food offering is unpretentious , 2 for £12 . Cheesey chips are popular. Close proximity to the church makes it a handy venue for wakes.
Papers- Last weeks Mail on Sunday
(March 2012)
Nearby are Hush Heath and Herbert Hall
THE WHITE HART  Claygate Kent
Another Shepherd Neame pub which is closed on Monday lunch time  for the Deep Clean.  Smelt clean and hoover very much in evidence. (April 2012)
THE WEST END TAVERN  Marden Kent
The West-End Tavern  is however open on a Monday lunch time. Currently serving well kept Harveys and Adnams . The fare is basic, undemanding, cheapish and apparently home made. Pickled egg and crisps would be my choice . Parking is exciting . Chip scented beer garden to rear.
Papers- Wealden Ad and Kent and Sussex Courier
(April 2012)
THE RISING SUN (The Riser)  Nutbourne, West Sussex#
Not quite spit and sawdust but this is a genuine drinkers bar. Good selection of rotating Real Ales, Harveys, London Pride, Adnams and Addlestones Cider.(English Wine - Nutbourne ) Food is available if you must. Sandwiches £4.50-5.50 , Ploughmans £6-50. Steak is probably your best bet for something that is local and fresh.
A Dukes of Hazzard inspired beer garden to the rear.
Papers- Sun and Mail
(March 2012)
Nearby – Nutbourne  (open May-October) , Nyetimber, Redfold (closed to public), Tullens (Farm shop with apples and juices and sometimes lamb)